Used Car Insurance: Buy/Renew Second Hand Car Insurance
UAE is pleasure central for car enthusiasts, with a variety of vintage cars, sports autos, luxury vehicles, and family SUVs. However, buying a used car is a better alternative for someone on a tight budget. Buying a pre-loved car is a big investment. You need to make sure you do it the right way. Here are a few tips to help you save money for car insurance when buying a used car.
Types of Used Car Insurance
There are two types of used car insurance are as similar for the new cars, as mentioned below:
Third-party car insurance
'Third-party' refers to a person involved in a claim, not the insurance policy holder.
A third-party liability ensures that if the policyholder causes accidental damage to another person's vehicle or property, it will be paid for by the insurance company.
While it does not cover the owner or vehicle, other passengers in the car can claim injuries. But, claims for fire damage or theft cannot be made.
Comprehensive car insurance
Comprehensive car insurance protects against third-party physical and financial damages, injuries, and damages to your vehicle. Comprehensive insurance is characterized by the fact that you can add many features to the insurance policy to benefit from it and obtain better protection, which is for an additional financial premium.
Comprehensive coverage can help pay for damages to your vehicle caused by non-collision damages. For example: obtaining insurance coverage against theft, flood, fire, or collision with an animal.
Things to Keep in Mind When Insuring Used Cars
When buying car insurance for used cars, we must consider certain things. Following are the points that need to be considered when purchasing a car insurance policy:
Insurance comparison is a must thing to consider whether you're buying comprehensive or Third-party insurance.
Arrange all required documents for insurance which includes passport, residence visa, driving license, car registration card
Awareness of how insurance premium is calculated
Keep in mind that insurance companies also offer Insurance bonuses to their buyers.
Make sure your car insurance policy includes agency repairs.
Make sure that your car insurance policy covers emergency services or not.
Ensure that your insurance premium coverage also includes compulsory excess as it reduces the premium value.
Consult car insurance consultants like to buy any insurance to get experience, advice, and good after-sale claim services.
How To Buy a New Insurance for 2nd Hand Used Cars?
Following are the basic steps you would need to follow when buying car insurance for used cars:
Select an Insurance company directly and finalize the plan that best suits your needs.
There are two basic ways to purchase the plan – online and offline.
For offline purchases, visit the insurance company branch office and buy the plan after completing some formalities.
For online purchases, visit the aggregator or provider's website and go to the car insurance page. Find the online purchasing portal and continue with the procedure.
You will be required to enter a few details about the car and the plan that you want here. Choose the vehicle's IDV and the add-ons you would like to buy, if applicable.
Upload the documents required on the uploading panel.
Read the terms and conditions and click submit.
If required, an inspector will come to check the vehicle before you can make final payments and complete the process.
Within 24 hours of receiving the approved inspection results, make the final payments and buy the plan.
Documents Required to Buy Used Car Insurance
Driver's License, Vehicle Registration, Current Declaration Page, New Vehicle/Person Policy Cancellation document, etc. are required for car insurance, and there are other easy other ways to get the awareness of car insurance essential documents by asking the car insurance broker.
Driver's License
A valid driver's license is a must, and a copy of the licenses of your family members who'll be driving the vehicles you hope to ensure is also needed.
Vehicle Registration
You need a valid copy of the car registration of the car you'd like to insure. If you want a homeownership discount, bring proof of homeownership, which can come from tax documents or a homeowner's insurance policy.
Current Declaration Page
The present Declaration page is essential if you already have a car insurance policy and are looking to get a new one. It helps the insurers find what coverage you currently have on your car and gives a quote accordingly. In some cases, insurers will only ask for this document to fetch other details from your prior insurance histories.
What Do Car Insurance Companies Cover in Your Car Insurance?
As the UAE government determines, third-party car insurance is compulsory if you possess a car. However, your situation can differ from buying just third-party car insurance in Dubai. There are several car insurance coverage types offered by various car insurance companies as follows:
Third-party liability cover
Comprehensive car insurance
CDW Insurance
Gap Insurance
Additional car insurance cover:
Breakdown
Courtesy Car
Legal Expenses
Misfuelling cover
Lost or Stolen keys
No claim discount protection
Windscreen cover
Personal Injury cover
Used Cars in the UAE
Shortlist affordable, functional cars
It is easy to find out which car models are popular and preferable by following current trends. From here the work is cut out to find a car that meets both the budget and the requirements. It is best to make a wise decision based on purchasing cost, maintenance cost, and resale value.
Look for insured used motors
There are a few places to search when one is in the market to buy a used car.
Secondhand Car Dealerships
Authorized dealers have strict regulations and inspections in place, which provide better guarantees to the buyer or seller.
Websites
Many websites offer the opportunity to buy and sell used cars. They provide vehicle specs and relevant details like prior repair work.
Classifieds
Classifieds are a great way to look for used cars available in the market, whether from individual sellers or dealerships.
Avoid risks with second-hand autos
The key to finding the best-used cars is to do your research and take the steps below:

Market Value
Second-hand vehicles of the same model or make carry different price tags. Find out the market value of the car by checking used car insurance rates guides and comparing similar used cars for sale.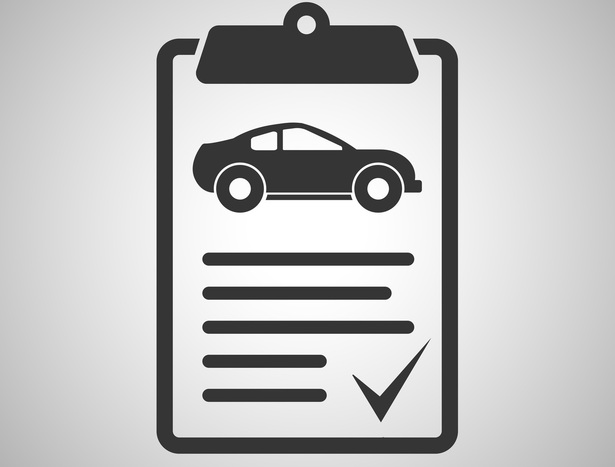 Vehicle History
A car history check is vital to find out if it has any outstanding car finance, is recorded stolen, or was previously written-off. Verify the service history and warranty from the dealer. Inspect the registration documents and make sure the VIN number matches.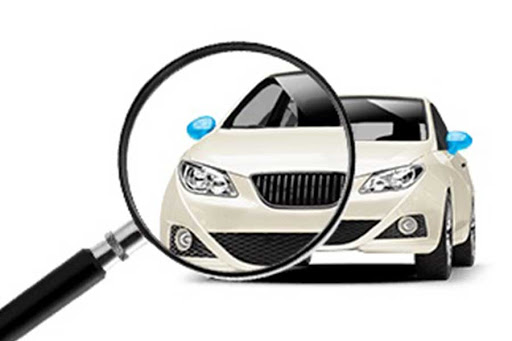 Car Inspection
Crosscheck this handy list for signs of major accidents or poor upkeep.
Check beneath the car and under the bonnet for rust or leaks.
Ensure the odometer isn't tampered with.
See if the locks, windows, sunroof, radio, and airconditioning are functioning.
Make sure all panels are aligned.
Check the headlights for clarity.
Inspect the windshield for cracks.
Look for signs of a repaint.
Check the tires for wear and tear. All 4 tires should belong to the same company.
Ensure that all car accessories are complete.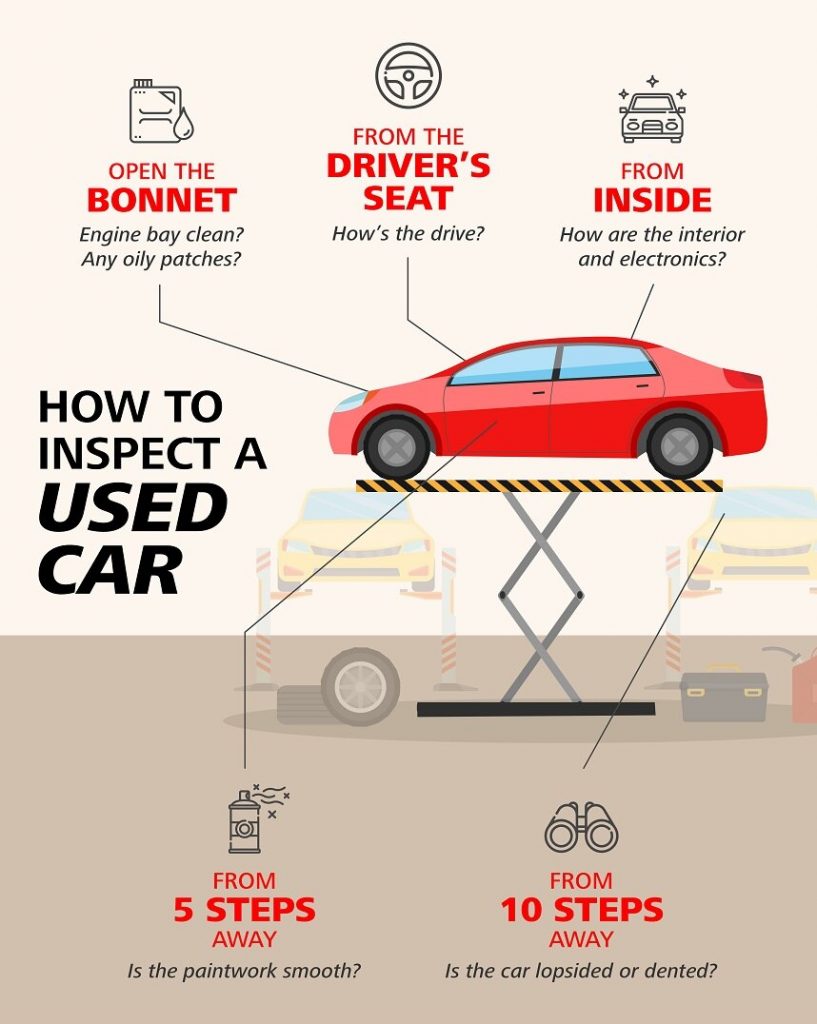 How to avoid used car scams?
1- Don't pay upfront deposits
Is the seller demanding an upfront deposit? There's a good chance of the deposit disappearing along with the seller. Whenever paying any money, ask for a copy of the Emirates ID and a proper receipt.
2- Don't pay the seller before the transfer of ownership
Hand over cash only while at the Road & Transport Authority (RTA) AFTER the vehicle's ownership has been transferred.
3- Check for an outstanding loan
Don't get conned into clearing a loan belonging to the previous owner of the used car.
4- Check the warranty
Make sure the warranty on the vehicle is valid and not expiring soon.
5- Get the car thoroughly inspected
Stay on the lookout for repair after a major accident or 'clocking' on the odometer.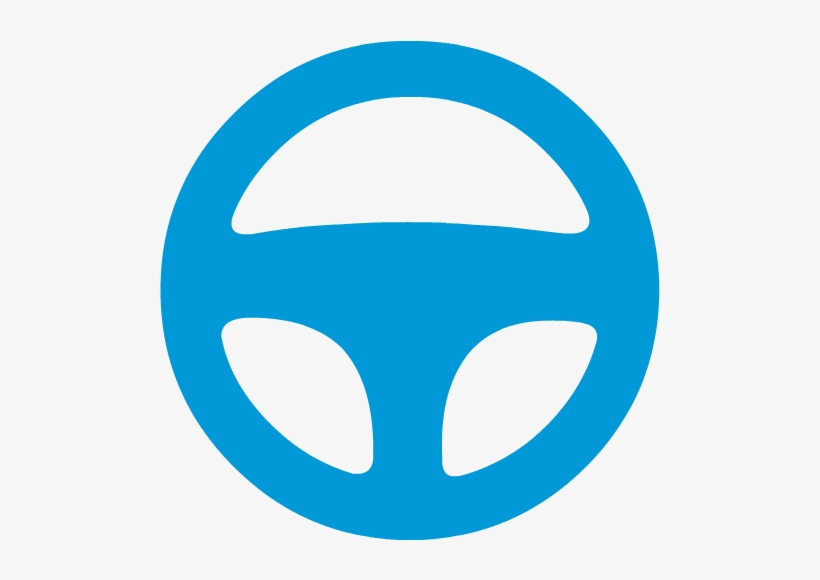 Test Drive
Check for steering, brakes, and gears, and for any abnormal sounds or performance issues by driving the car, both on straight roads as well as turns. Never buy a car without getting behind the wheels.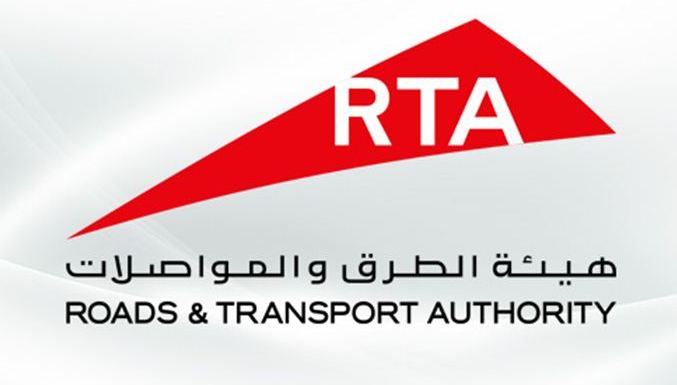 RTA Check
Most people don't have the time or are not good with data and fact checks. Therefore, request a passing assurance by RTA. The guarantee relies on a progression of tests by centers endorsed by RTA.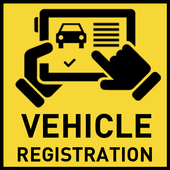 Transfer Car Registration
Ensure that the car's registration has not lapsed for more than 2 years. Car registration can be transferred at authorized dealerships, centers or the RTA offices. Keep ID, passport, visa and driver's license on hand. Make the payment upfront in cash and keep all the original documents.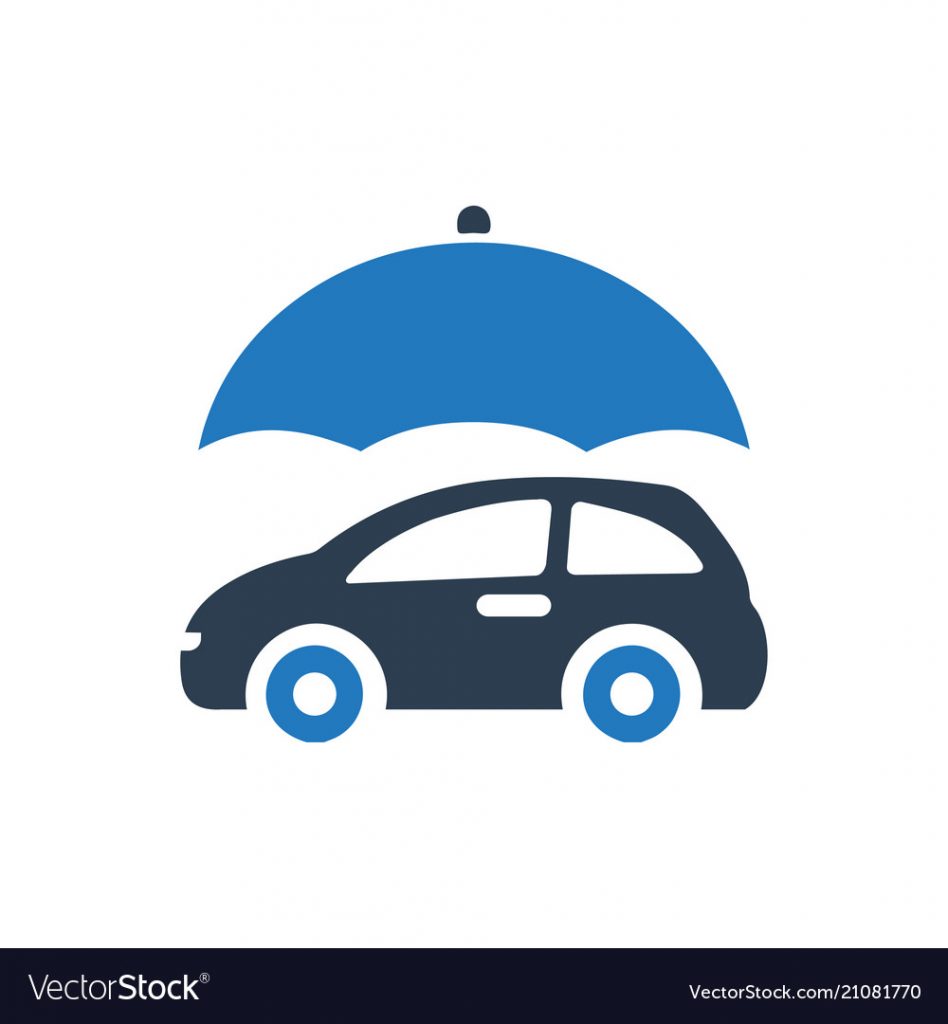 Used Car Insurance
This is the most important step while buying any car. Car insurance safeguards against unforeseen incidents. Third-party insurance is required by law, but comprehensive coverage is unnecessary for a used car. Lower used car insurance rates are easily available, free of charge, through quote comparison on BuyAnyInsurance.
A comfortable and hassle-free way to acquire insurance is to make use of our online insurance platform or call now at 800 POLICY.
FAQs
What is used car insurance?
Used car insurance is a type of car insurance policy meant to protect second hand, used or old cars. It safeguards a used car from any unpredictable dangers and financial liability.
Which car insurance is best for used cars?
If the used car you bought is fairly new and in good condition, buying comprehensive insurance for used cars for a few years is a good idea. The used car insurance rates market price will be different from the new car's insurance.
Can Car Insurance for Used Cars be transferred?
Yes, car insurance for used cars can be transferred. But, you need to follow the procedure and cost to transfer. To transfer the existing car insurance from one person to another, you must raise a transfer request with the car insurance company. Along with a transfer fee, the following documents must be submitted for car insurance transfer: The new copy of the registration certificate.
Can I drive the car while I am in the process of getting new used car insurance?
It is best advised to drive the car only when the car registration and insurance transfer process is fully completed. Otherwise, no insurance claim, discount, or refund will be given if you have a car accident without car insurance.
How much is comprehensive car insurance in UAE?
Comprehensive insurance would cost between 1.25% to 3% of the value of your car.
Which insurance is best for a 10 year old car?
Third-party car insurance is best for a 10 year old car because comprehensive car insurance will cost you more as compared to the current value of your car.
Why should I need an insurance policy for a used car?
A comprehensive car insurance policy acts the same way for used cars as it does for new cars. So, when you buy a used car, you should get it insured to protect it from all risks and troubles, such as damages from accidents, natural and man-made calamities, theft, or repairs. Furthermore, you can not drive without car insurance in the UAE.
Read more on our blog
Originally published Feb 12, 2020 17:59:46 PM, updated Sep 02, 2022