Our Stellar Insurance Services Are All Over The News
Our Stellar Insurance Services Are All Over The News
We're very proud of our insurance services. Our team of experts and support staff works really hard to make BuyAnyInsurance a platform that buyers can trust. So when others agree it feels great and makes all that hard work worth the while.
Be it Arabic publications or English; we've got them all charmed. And why not? We're one of the fastest-growing insurance startups in the UAE, building a name for ourselves in a little over a year. Our website is fully automated to assist potential buyers. We're independent, so our representation of insurance companies means that you get the best deals on the market that are unbiased and sincere.

Our Stellar Insurance Services Are All Over The News
Disrupt Magazine
One of our earliest printed interviews, this article by Disrupt Magazine is a great look into the drive and enthusiasm behind BuyAnyInsurance. Micheal Ilyas, one of the co-founders, does a great job of explaining why we put the customer forward. Our independent zeal helps us match buyers with the best policies without any bias. It's what makes us unique.

Online Marketplaces
Our one-stop solution to insurance allows buyers to compare, buy, and renew their insurance policies on one platform. And with a dedicated team looking out for you every step of the way, it has fast become the only way to buy insurance. Therefore, it's no surprise that Online Marketplace was wowed by our insurance services.
ZAWYA and Our Insurance Services
You must have seen countless websites with automated chat boxes. We have one too, but our's is a little different. We're semi-automated. So when you write a query or ask for assistance, you will get an automated response initially but then one of our representatives will take over. They will guide you through the process of buying insurance online. If you want to renew they will help you renew. However, if you're looking for a new policy they will get you the best rates in the country. You will have someone who cares to make your experience better behind the screen.
AMEinfo
Insurance is a big industry, and online insurance has a huge market in the UAE. But BuyAnyInsurance has faith in its insurance services. We know that we bring something different to the table. Instead of making insurance sound like a boring chore, we go out of our way to explain its nature to our buyers. We want them as invested in their policies as we are. As AMEinfo rightly put it, we are a "specialized insurance comparison … site dedicated to the digital space."
Al Bawaba
Traditional insurance is still very much around but online is slowly taking over. With the current pandemic, it is imperative to have an online presence. Most businesses found this out the hard way. This is why BuyAnyInsurance has always aimed to provide a digital platform for traditional insurance services. So companies can collaborate and find an online platform to sell from without the added cost. We have helped evolve the insurance industry.
MENAFN
Speaking of traditional insurance. A lot of insurance companies don't have offices in every city in the UAE. This often meant people had to travel to get insurance policies or rely on whatever they had available locally. However, BuyAnyInsurance had other plans. Our insurance comparison website helps insurance companies reach a larger audience. It also helps buyers access policies that they weren't able to before.
The Startup Scene on Insurance Services
The UAE is a fertile ground for startups. Its initiations and government planning provide an economic stimulus where new businesses and ideas can thrive. As a result, BuyAnyInsurance based its offices in Dubai. Being a digital startup allows you to evolve more frequently and as Startup Scene points out, we've upgraded and evolved with the times. Staying stagnant was never part of our game plan. We seek to improve, renovate, and innovate with the changing needs of our buyers.
Arabian Post
BuyAnyInsurance has always been ahead of the curve. We had an entire department working remotely months before the pandemic made quarantine and work from home mandatory. Our office culture has also put women first. From fresh ideas on the table and dynamic work skills, our female team members are an important part of the organization. BuyAnyInsurance believes in a progressive future. Because when everyone gets a seat at the table, we all progress.
LAFFAZ
Buying insurance should be easy. BuyAnyInsurance makes sure that it's as easy as eating cake. We've ensured that our insurance services are transparent. The steps are clearly defined on our website. And if there is any confusion we are always there via chatbot or a quick phone call to help you out.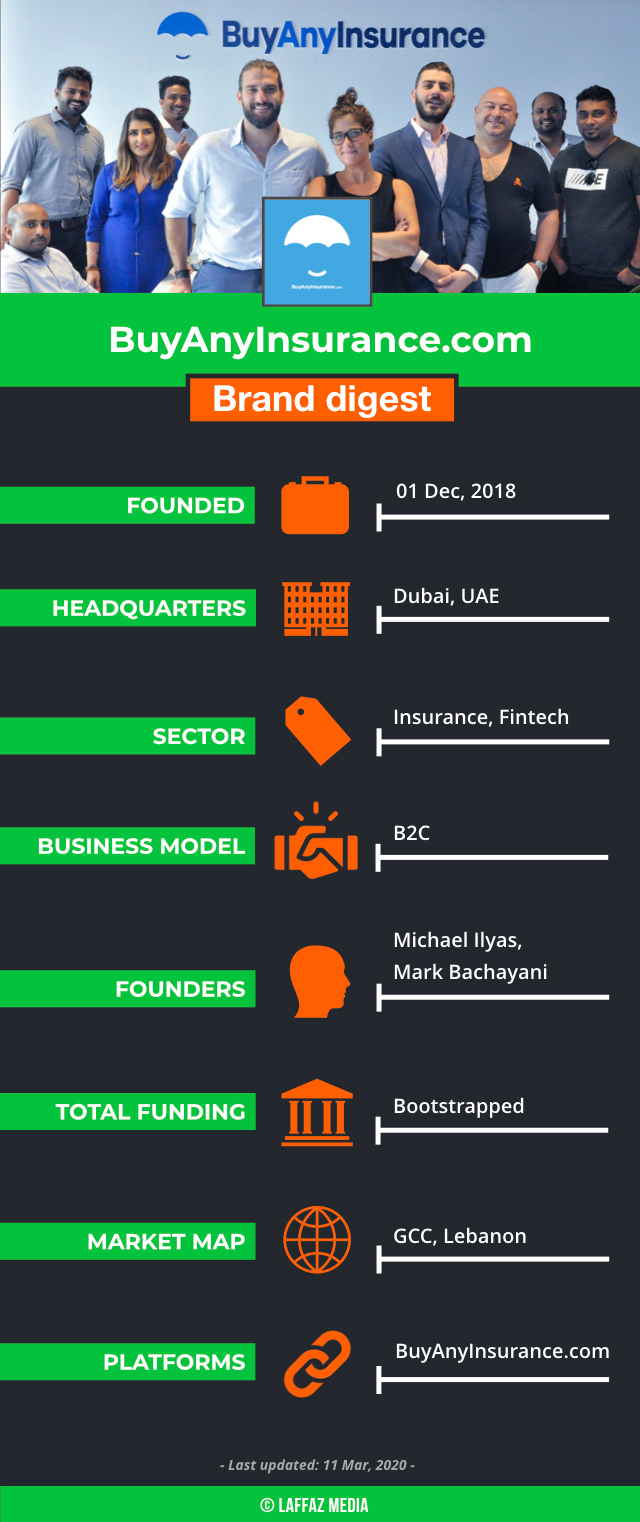 Entrepreneur AlArabiya
Incorporating the international with the local talent we take on a plethora of insurance partners to better facilitate policies for our buyers. Incidentally, we promote local business. We collaborate to create campaigns and offers our buyers will benefit from. As a matter of fact, we are aware of our place in the business community. We recognize that lifting others up will make a healthy market for all of us. Therefore, we are here to build communities, and help existing ones thrive.
Arabapps.org
Our use of the latest technology and what it has to offer has also given us an edge. Where traditional insurance companies have been wary of using the new platforms we've embraced them.
Selfedev.com
We will continue to strive to make our buyer's online insurance services experience even better than before. Our aim is to make insurance easy to understand and accessible to the masses.
FAQ's
What are the insurance services?
Insurance Services means any renewal, discontinuance or replacement of any insurance or reinsurance by, or handling self-insurance programs, insurance claims or other insurance administrative functions etc.
Related Articles:
Originally published May 20, 2020 23:39:37 PM, updated Jun 26, 2022