List of Best Car Auction Companies in UAE
The UAE car market is famous locally, regionally and globally, as companies work to develop and modernize this industry and find innovative solutions to provide the best services to customers in many ways. If you want to buy a cheap car, a car auction is one of the popular ways to get a car at an affordable price.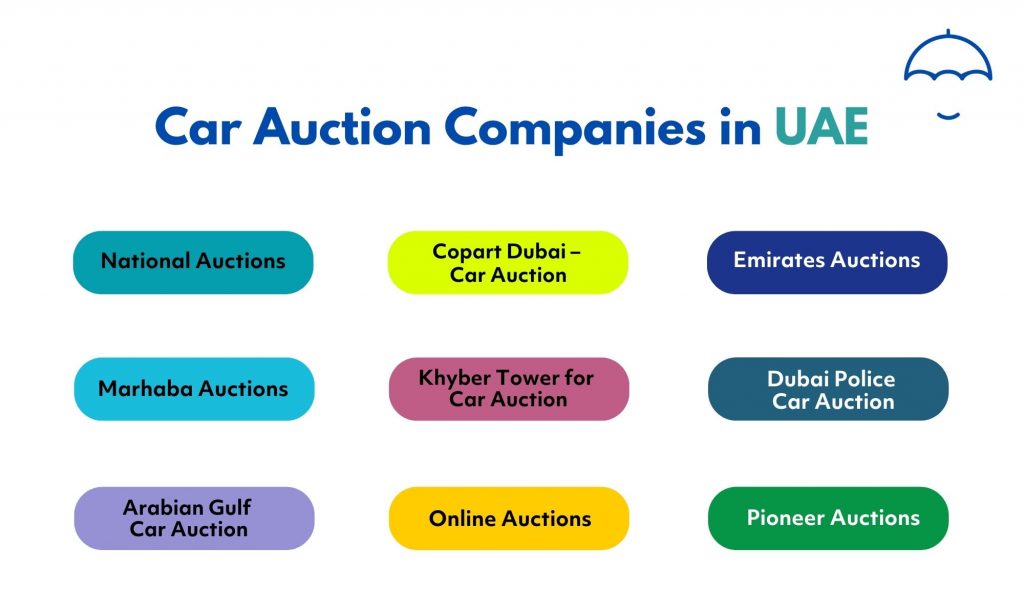 There are many types and methods of purchasing vehicles through auctions, for example: online car auction, Dubai Police car auction, used car auction, and crashed car auction. You will find everything you need to know about car auction companies and their details in this complete guide.
National Auctions
National Auctions is a member of the Emirates Transport Center and is affiliated with the website of a federal government institution. It succeeded in achieving record achievements and was widely used in the field of auctions, as it organized more than 66 auctions and gained the confidence of the government and private sectors alike. Through the National Auctions, you can purchase through the direct sale service, or the online auction.
National Auctions – terms and conditions
The age of the bidder shall not be less than 21 years.
Vehicles are sold as they are
Each bidder must inspect the vehicle before purchasing them, and he is responsible for the condition of the vehicle.
Each bidder must put a security deposit starting from 5,000 dirhams.
Bidders are entitled to an unlimited number of vehicles.
The vehicle value must be paid within 48 hours of closing the auction.
National Auctions – contact details
Address: Musaffah, Abu Dhabi.
Phone: 80060006
Opening hours: 24/7
Email: support@alwataneya.ae
Website: https://www.alwataneya.ae/
Copart Dubai – Car Auction
Copart is one of the leading online car auction companies, which opened its doors in 2012 in the Middle East and Dubai in particular. It sells about 2 million vehicles annually and has more than 170 facilities around the world.
Copart Dubai provides suppliers with a broad range of remarketing services to showcase their products to more than 800,000 buyers in more than 142 countries. These services include licensed auto disassembly shops, vehicle rebuilding shops, used car dealerships, and more.
The online Copart Dubai car auction is as follows –
Crashed cars auction every Monday at 05:00 pm
Used car auction every Tuesday at 07:00 pm
Copart member protection eligibility requirements
Copart undertakes to refund the amount paid and all buyer fees if the company breaches one of its conditions, and in return you must have the following eligibility conditions –
Successfully completing a vehicle purchase on its website, using exclusively your Copart member account.
Your account on the site should be in good condition, i.e. it was not suspended or suspended at the time of submitting the claim.
Submit the claim on time.
The final selling price of the vehicle is less than 75,000 dirhams.
You have not applied for compensation undertaking to protect the member within the past 6 months.
Purchasing the vehicle from a Copart facility in the UAE, Oman or Bahrain.
Copart Dubai – contact details
Address – Block No. 500-663, Al Faya Truck Road, Seih Shuaib, Dubai.
Phone: 44592700
Working hours –
Monday – Thursday: from 08:00 am to 05:00 pm.
Friday: 08:00 AM to 12:00 PM.
Saturday and Sunday: closed.
Email: member.servicesmea@copart.com / info@copart.com
Website: https://www.copartmea.com/
Emirates Auctions
A leading and distinguished company in the auction sector in the Middle East, it was established in 2004 and since then it has specialized in holding electronic auctions for cars and direct auctions for the sale of vehicles, car numbers, real estate, distinguished mobile numbers, jewelry, antiques, and others.
Emirates Auctions organizes about 200 electronic and public auctions a year, and holds 3 auctions per week to keep up with the numbers of registrants from across the Emirates, the Arabian Gulf, Russia, and others. The company also includes a wide range of high-end clients from government and private agencies and from various basic vital sectors.
Emirates Auction – terms and conditions
Vehicles are sold in their current condition without any warranty from Emirates Auctions.
All bidders must inspect the vehicle thoroughly before purchasing it and ensure that it conforms to the specifications offered before bidding.
Applying a 5% value-added tax to the final auction price.
The bidder must deposit a security deposit of 20% of the required bid limit value.
The bidder must register on the site and choose the username and password.
The winner must pay the value of the vehicle by means of a bank check addressed to Emirates Auctions.
Payment must be made within 48 hours of the auction ending day.
Paying an additional 500 dirhams administrative fee.
In the event that the bidder violates the terms of the site, the security deposit will be confiscated.
Delivering the vehicle within 7 working days from the date of the delivery request to the winning bidder exclusively.
You can own an unlimited number of vehicles for auction.
Emirates Auction – contact details
Dubai – Ras Al Khor Industrial 2, opposite the car market, Dubai. Tel: 04 3313333.
Working hours: Sunday – Thursday from 08:00 am – 09:00 pm.
Friday: 08:00 AM – 12:00 PM, and 02:00 PM – 06:00 PM.
Abu Dhabi: Muroor Road, Licensing and Traffic Department, Technical Inspection Building, Emirates Auction Office. Tel: 25855555.
Working hours: Monday – Thursday from 08:00 am – 05:00 pm.
Friday: 08:00 AM – 12:00 PM.
Free phone: 80032
Email: cs@emiratesauction.ae
Website: https://www.emiratesauction.com/ar/Cars/Vehicles.aspx
Marhaba Auctions
One of the leading car auction companies in the UAE, established in 2006, providing the best customer services and shipping services from seller to buyer. Marhaba Auctions seeks to reduce the burden of the cost of selling cars on the buyer by providing unprecedented services that will also develop the car market in the UAE.
It is the official partner of IAA American Auto Auctions in the UAE, operating an authorized Auto Auction Center. It is expanding its network of clients locally and globally. Marhaba Auctions is one of the auto auction websites. Through its platform, you can participate in the online car auction, or by visiting the actual auction site.
Marhaba Auctions – contact details
Address – 247 First Industrial Street, Industrial Area, Industrial Area, Sharjah.
Phone: 586424404/505785074
Working hours: 10:30 am to 02:00 pm and 04:30 PM to 10:00 PM, every day
Friday: from 07:00 am to 10:00 am.
Email: info@marhabaauctions.com
Website: https://marhabaauctions.com
Khyber Tower for car auction
One of the leading centers for used car auctions and wrecked car auctions in Sharjah. Burj Khyber Auto Auction is distinguished as a center for selling imported American or Japanese cars. In the mega sale you will find many wrecked American cars, which can be easily repaired.
3 car auctions are held per week, at 5 pm every Monday, Wednesday and Saturday. You can participate in Burj Khyber auctions as long as you are over the legal age of 18.
Khyer Tower car auction – contact details
Address – Industrial Area, Behind Etisalat Tower, Al Saja'a, Sharjah.
Phone: 06323325/589367505
Working hours: 09:00 am to 09:00 pm, every day
Friday: closed
Dubai Police Car Auction
Local Law No. 34 of 2008 authorizes disposal of vehicles, machinery and bicycles seized by Dubai Police. It has the right to offer it in public auctions after the lapse of 3 months from the date of seizure of the vehicle and the closure of the accident file or the issuance of a judicial ruling after coordination with the Public Prosecution.
After 3 months have elapsed, the police will notify the owner of the impounded car to release it, and also notify the creditors to take the necessary measures to collect their rights. This notification shall be made by publication in two well-known local daily newspapers, one in Arabic and the other in English.
After the 30-day notice period has elapsed without the vehicle owner releasing his car, the police prepare a list of the vehicles they have seized to organize the auction sale. This is in coordination with the most prominent car auction companies in the city, such as the Emirates Auction Company.
Arabian Gulf Car Auction
It was established in 2014 as a reputable car auction body that specializes in buying, selling and renting cars and fleets for individuals and companies. It provides a range of auction organizing services to the Roads and Transport Authority, and has strategic partnerships with many leading government institutions.
The Arabian Gulf Group for Auctions hosts two commercial and two-year auctions every week for private cars, commercial vehicles, and SUVs, while the auction of damaged cars, trucks, and machinery is held from time to time, with monitored garage services and fire insurance. The parking garage area is about 30,000 square feet.
Arabian Gulf Car Auction – contact details
Address – Dubai: Street 19, Al Qusais Industrial Area, Al Qusais Industrial 1.
Sharjah: Industrial Area, Industrial Area 6.
Phone: 563628186.
Working hours: daily from 09:00 am to 02:00 pm.
and from 05:00 PM to 09:00 PM.
Website: https://khaleejauction.com/
Online Auctions
Online Auctions, formerly known as Fujairah Auctions, started in 2012, and its successes continued in the local and regional market to obtain the award of His Highness Sheikh Mohammed bin Rashid 2015. Today, it has a huge customer base of various nationalities through its website and smart application. It has distinguished partnerships with the Roads and Transport Authority, the Dubai Civil Aviation Authority, Abu Dhabi Traffic, some approved car agencies, and Virgin Mobile, which it chose as an exclusive agent to hold auctions for the sale of special packages.
It offers a variety of services, such as the online car auction, the American car auction, the online real estate auction, the charity auction, the miscellaneous auction and the premium packages auction from Du, and others.
Online Auctions – terms and conditions
The bidder must be over 18 years old.
Pay a security deposit before the auction.
Inspect the car before buying it and make sure of the specifications mentioned in the advertisement before bidding, and you bear the responsibility for the purchase.
The possibility of owning an unlimited number of vehicles.
Pay the vehicle value within two days from the closing date of the auction as a maximum.
The bidder is not entitled to withdraw from the bid.
Dubai Police vehicles will be delivered within 20 working days after payment.
Dubai Police vehicles are sold without plates.
Online Auctions – contact details
Address – Head office: Al Ittihad Street, Deira, Dubai, Tel: 60056654.
Working hours: 09:00 am to 06:00 pm.
Al-Mizhar Markets Branch: Khartoum Street, Al-Mizhar, Tel: 0569834111.
Business hours: 10:00 am to 10:00 pm.
Wasel branch: Al Jaddaf, Dubai, Tel: 0501262333.
Business hours: 10:00 am to 10:00 pm.
Email: support@onlineauction.ae
Website: https://onlineauction.ae/
Pioneer Auctions
One of the most important car auction websites and auto auctions locally and regionally. It was the first company to start the online vehicle auction and provided innovative solutions and worked on continuous development to give customers the best and fastest experience. It is possible through the website and smart application of the Pioneer Auctions website to participate with a click of a button, or through the auction hall on a weekly basis.
You can also buy and sell a wide variety of items such as horses, vehicles, building materials, marine equipment and heavy machinery. It enjoys a large base of distinguished clients from various industries and public and private sectors.
Pioneer Auctions – terms and conditions
The bidder must be over 18 years old.
Pay a minimum security deposit of 1,000 dirhams.
Imposing fees on the winner between 500-1500 dirhams.
Pay the vehicle value within 48 hours as a maximum.
The buyer shall bear the transportation of the vehicle within a maximum of 48 hours from the date of the purchase.
Pioneer Auctions – contact details
Address – Ramez Group Building, Airport Road, Umm Ramool, Dubai.
Phone: 800-746-6337
Working hours: from 09:00 am to 06:00 pm.
Email: info@pioneerauctions.ae
Website: https://www.pioneerauctions.ae
Car insurance from BuyAnyInsurance
When you buy a new or used car, you cannot drive it on the roads of the Emirates even for a moment without purchasing car insurance. So how do you get the best car insurance?
Before buying car insurance, it is better to shop well, especially from car insurance offer comparison sites . You can get prices from international and local insurance companies when you use the online insurance calculator. All you have to do is enter some information about the driver and the car's specifications, then you will get multiple offers. Compare the advantages of insurance offers in terms of services and prices, then buy the best policy that meets your needs.
The easiest way of all is to contact a team. With over 15 years of insurance experience, you will get the best service and impartial advice you need. Our insurance experts will understand your needs in terms of features and pricing and then offer you the best offer in a completely impartial manner. Call the toll free number 800 765429 immediately , or WhatsApp 057616131 .
Originally published Dec 08, 2022 12:39:32 PM, updated Dec 08, 2022