Ideal Home Insurance in the UAE
Home Insurance
safeguards you against the worst of worst situations like fire, natural calamities like earthquakes and all the valuable possession one may have in their home.
Imagine a nightmare where you return from a vacation and find that your house has been wrecked by a storm or God forbid a fire. It's not your house that is destroyed but all your belongings.
Many people think this might not happen to them but anyone can be unlucky.
It is very important to realize the significance of home insurance in UAE because if such an incident happens to you, it is not only the loss of your belongings but also hundreds of thousands of dirhams.
Thus, in order to protect you from such loss, we have provided a guide for you so you can choose the ideal home insurance policy in UAE.
Home Insurance Coverage Plans
Before going further into the explanation of home insurance policy, first, let us explain the introduction of the home insurance policy.
Home insurance is also called the homeowner's insurance. It is a type of insurance policy that the homeowners get against their houses.
This insurance means that the losses and damages of belongings are covered by getting compensation.
Home insurance coverage is not only limited to houses but can extend to buildings, individual contents or personal belongings in the home. There are many incidents that are covered by a home insurance policy.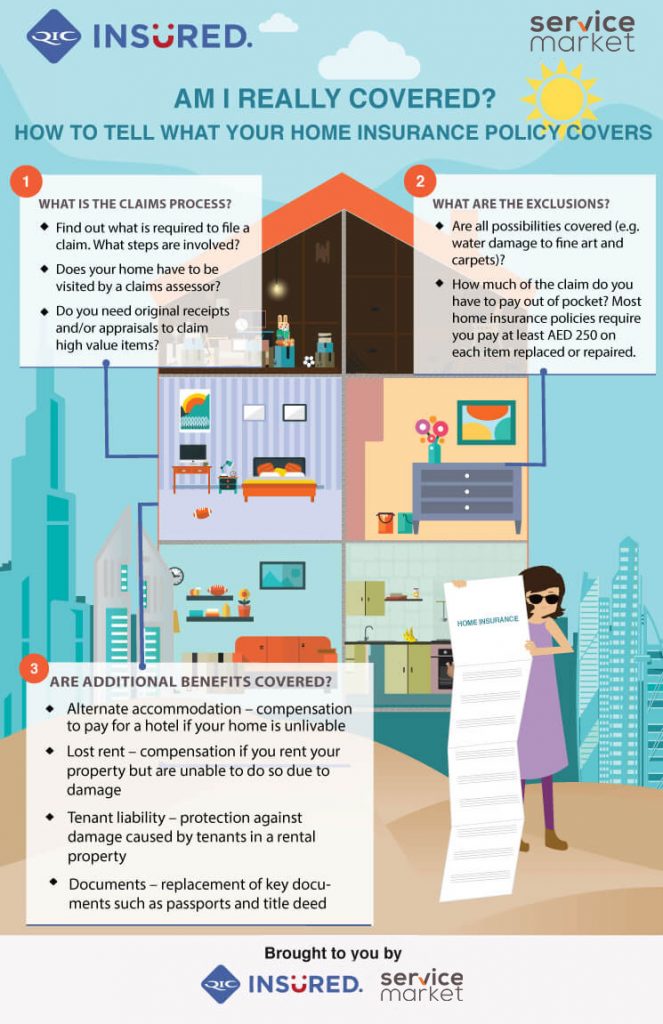 These incidents include damage to the building's structure, interior and exterior; and loss or damage to belongings or personal assets in the home due to water, fire, or natural calamity.
Hence, many people don't realize the importance of home insurance but are very important to protect your belongings.
Home Insurance in UAE- An Important Step Towards Security
Many people think that in UAE they are safe from calamities such as fire, storms or earthquakes but in reality, this can happen everywhere. No one on earth is really safe from such incidents.
Although these incidents are very rare it can happen at any time. It is important to protect yourself from these incidents. For instant:
There was much news about the fires on a New Year's Eve at The Address Downtown and then in another incident, there was a fire at Dubai Marina's 86-storey Torch Tower.
It is particularly important for you to have this insurance if you are living in a place which is near to some public place. There are chances that public places might catch on fire and that fire can affect your home or belongings.
There are many seasons where expatriates or people leave their homes to go for vacations or back home.
These houses are left unattended with all the belongings. Leaving houses unattended increases the chances of flooding due to pipes getting over flooded.
This causes water damage to the house. This water damage extends to the personal belongings in the house if the flood is not discovered in time.
Without a home insurance, residents have to pay for all the losses. They have to pay for rebuilding the home structures and replacing the belongings that have been damaged by such incidents.
Sometimes the residents have to pay for the loss of neighboring properties along with the damage of home contents and décor.
Therefore, it is very important to take measures to mitigate losses.
Selection of the Right Insurance Home Policy
Many people have the misconception that if any incident happens, the landlord will bear the expenses. Therefore, it will be the responsibility of the homeowner to get home insurance.
It is not true because if any incident and the structure of the house are damaged, only then the owner has to pay for the mortgage.
The contents of the house will not be covered by the home insurance that the homeowner has selected.
The insurance will only cover the structural damages of the house. Therefore, in order to secure your own personal belongings and contents of the house, it is important you get home insurance for yourself.
It should not matter that you are living in your own house or are living in a rented home. Therefore, it is important to get home insurance against your own or rented property in the UAE.
It is important to get home contents insurance if you are living in a rented apartment or house.
This will help you to protect your belongings such as jewelry, electronics, furniture, etc. This insurance will help the coverage of loss or damage to your belongings.
In this way, you will not bear much loss. This insurance will replace or repair your items following damage from flooding, fire, vandalism or theft.
The landlord of your apartment or house will be having an insurance policy for the property that you are living in but it will not cover the damage to your personal belongings.
It will be the responsibility of the tenant to get an insurance policy for the belongings. This is because they will not have any support if their personal belongings are lost in the incident.
It is your responsibility to get building insurance as soon as you buy a property in UAE whether you buy a house, apartment or villa.
This insurance will ensure that the whole structure of your house will be safe in any case of incidents that occur.
The explanation of all the property that is covered in the insurance is mentioned in the contract. But this insurance policy will only cover the physical structure of your property. The belongings and contents of your house will be covered in the home contents insurance.
Therefore, it is important to get the complete insurance policy so that everything within your house and property can be protected. Home contents insurance and your building insurance is all part of your home insurance.
Understanding an Ideal Home Insurance Policy
It is important to select a perfect home insurance policy for yourself. While shopping-home insurance, it is important that home insurance should be perfect for you so that everything is covered in that policy.
There are many insurance companies in the UAE that will provide you a perfect policy.
There are around 50 certified companies in the UAE. However, it is important to be careful of the fancy companies that are only promises and no real work.
Insurance brokers will make many promises but in reality, many times these promises are not real.
It is very important for you to completely understand the coverage of your insurance policy before buying.
This will ensure that you know about all the details of everything that your policy will cover. These details will include a list of all the personal belongings, valuables, and property that will be covered by the policy.
You should keep in mind that insurance will cost you a premium that is the price that you have to pay for the contract of insurance.
This cost will ensure that you get a policy that is sufficient for you. You have to carefully select the premium plan that will work best for you at a price that is suitable for you.
A basic plan will start at 200 AED but there are many options available that are at different prices. These prices depend on the type of coverage you need. Coverage of more options will cost you more.
Therefore, it is important to note that you can have different plans for various prices.
Evaluate your Home Insurance Options
The most basic step that you have to consider that before signing and selecting any plan, you have to consider that at least the actual value of your belongings can be covered.
Therefore, it is important to check for the value that will be covered by the plan of your insurance policy in the UAE.
If your property has a value of AED 50,000 and the insurance policy only covers half the value of this, it is not advisable that you get this policy.
Your premium plan should not be as such that the half of your value of personal belongings is not covered by it.
There is a complete detail of all the things that are covered in your insurance plan. It also explains the damage that will be covered in the plan.
It is a responsibility to thoroughly go through the plan in order to completely get the picture of what is being offered to you.
Sometimes insurance providers use words that are vague and ambiguous that do not clearly tell what kind of things will be covered by the insurance plan.
Many home insurance providers say that all the household items in your house will be covered by this insurance.
These household items include furniture or jewelry and not electronic home appliances.
This means that insurance will not pay for the damages done to your electronic devices in homes. It is important to know what your plan covers everything if you are paying a high price.
After knowing the contents of your insurance plan then decide which plan you have to purchase in the price that is offered to you.
Be Clear & Save your Home Insurance Claims from Rejection
You should not in any circumstances believe that in any case your insurance claims will be accepted.
There are many situations where the claim for the coverage of damage is rejected by the company. These circumstances are mentioned in your plan and you have to be very careful in this circumstance.
If an accident was caused by your own negligence, then the company is not liable to pay the insurance. False claims are also one of the reasons why the claim can be rejected.
Sometimes people falsely mention that the loss or damage is due to an accident. If it is found that it is not the case, the claims are rejected.
In order to be sure that the company can't reject your claim, it is important that you read all the terms and conditions before signing the contract so that there is no problem later on. Evaluation of the insurance plan is very important for choosing the right policy.
There are many cases in which your ideal home insurance policy will be applied. These cases are:
If any accident causes damage to your property or the contents of your homes.
If you lose any home belongings by theft or attempted robbery.
If the receiving aerials fall on your house.
If the trees or branches fall on your house damaging the property or the structure of the house.
In the case of earthquakes, fire, explosions or lightning. Any damages caused by these incidents will be covered by your insurance plan.
If there is an incident involving smoke, it will be covered by your home insurance policy.
If a storm or flood causes damage to your property and home belongings, the loss will be covered by the insurance policy.
Any damage to the property by water or oil is covered by the insurance policy.
If any damage is caused to your property by the impact of an accident nearby, it will also be covered by an ideal insurance policy.
There are some situations in which property is damaged due to riots, civil unrest or political instability. You don't have to worry about that because it will also be covered by your policy.
If in any case, your house becomes inhabitable, it will be covered by your insurance plan. You will be given an alternate option that will be provided to you by covering all the costs.
If any damage is caused to your belonging while shifting or moving, it will also be covered by your policy.
If any fatality is caused to you or your family member due to an accident in the home, it will also be covered by your policy.
Even the food contents stored in your refrigerator will be covered by the policy if they get destroyed due to a rise in temperature or any other factors.
There are many other cases that are covered by your insurance plan.
Therefore, due to these reasons, you should immediately select a plan that is suitable and perfect for you.
Conclusion Policy
This guide aims to make our target niche aware of the home insurance working in the UAE and how you can get the best deals and save yourself from hassle and traps.
Originally published Dec 28, 2020 18:42:00 PM, updated May 31, 2021