How Does Travel Insurance Work – Coverage, Benefits, and Cost
How Does Travel Insurance Work – Coverage, Benefits, and Cost
You may not have thought of buying travel insurance before now. But the spread of the Covid-19 pandemic, or Coronavirus as its known, is changing our stereotypical way of thinking. Specifically, it makes us take all precautions, to constantly protect ourselves and our loved ones from any dangers we may be exposed to, especially while traveling.
If you do not have prior information about travel insurance, how travel insurance work, and what insurance coverage does it provide? What are the benefits of travel insurance? Read the article to the end, here you will find everything you need to know about travel insurance, and more!
What is travel insurance?
Travel insurance is a plan that you buy from an insurance company, to protect you from risks and financial losses, which you may incur while traveling. These losses can be as small as a delayed baggage claim, or as large as last-minute flight cancellation, or even an out-of-country medical emergency.
Whether you are traveling to or from the UAE, you recommend that you purchase travel insurance to recover in a country that is not your own. With a comprehensive travel insurance plan, you can break down language barriers, get urgent medical care and monitor your health.
However, you must know about some important things related to the travel insurance plan, namely:
Insurance benefits vary depending on which plan you wish to purchase. Therefore, it is essential to know exactly what you need according to your budget and travel plan.
It does not cover all the situations you are exposed to, but rather covers the losses and damages included in the provisions of the travel insurance plan.
Travel insurance is designed to cover unforeseen events, for example if you purchase an insurance policy for your specific destination knowing that a natural disaster such as a storm or flood will occur there, you will not be compensated for your losses.
How travel insurance works?
Travel insurance works like other types of insurance, which you must be familiar with, due to its mandatory in the UAE, such as car insurance and health insurance.
When you suffer loss or damage, you will file a claim with the insurance company. After the Company agrees to your claim, it will compensate you for your loss.
To make it clearer, if your bag gets delayed, you'll need clothes and toiletries. In such a case, you will file a claim with the insurance company to compensate you. Insurance is very useful in scenarios like this, so you should pay attention to your travel insurance plan and the items it includes.
.
What steps should you take in an emergency?
You should call or email the insurance company right away. Most insurance companies have offices all over the world. You will find the email address and contact numbers of your insurance company on the insurance policy.
Don't forget to keep all documents related to the claim, such as payment receipts, photographic and video evidence, police reports, or medical reports. You can send these documents by fax, or e-mail to the insurance company.
Then fill out and submit the claim form. It is available online on the website of the insurance company or comparison site where you purchased the policy.
Once you have submitted the claim form and documents, the investigation of the claim will begin. An evaluator will be assigned to your case who will investigate the claim and the implications of the document.
In the last stage, the insurance company will pay you compensation, according to the limits of the insurance policy, after you agree to your claim.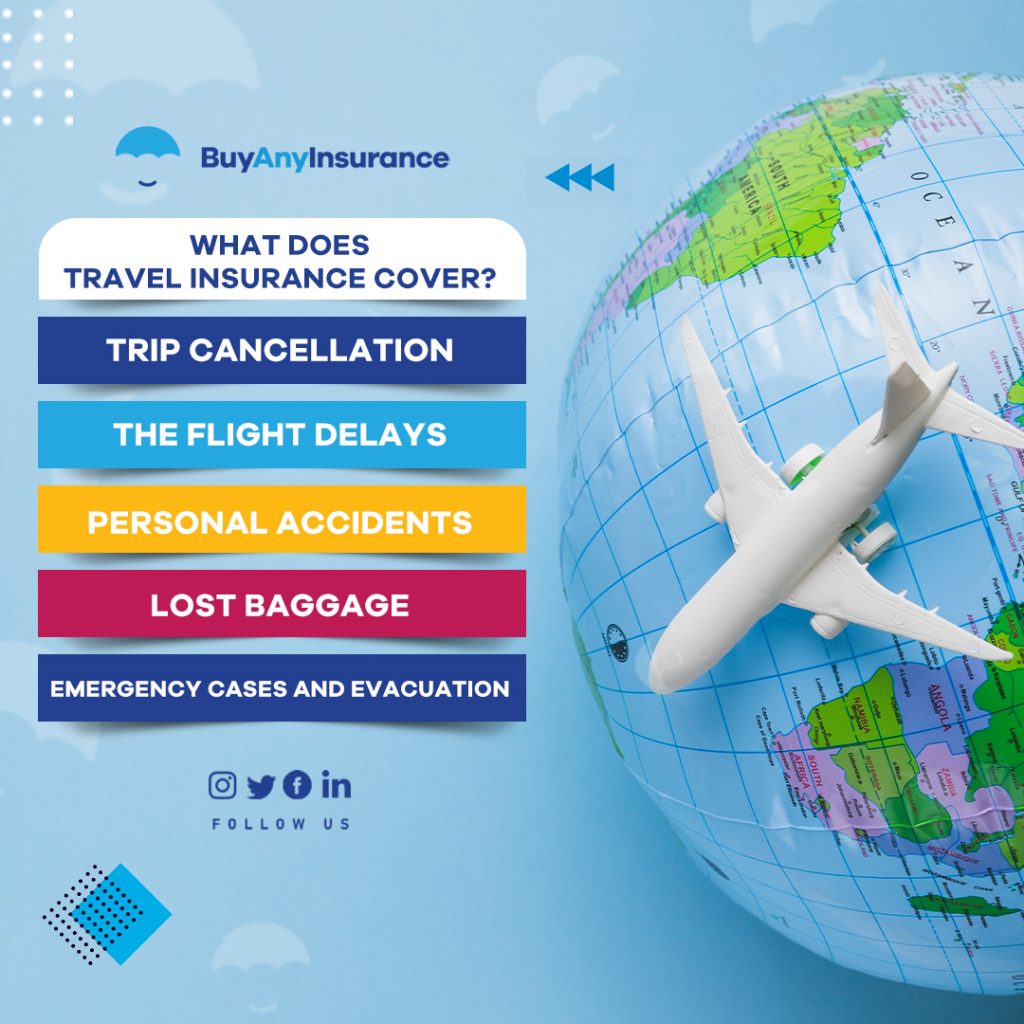 What does travel insurance cover?
Travel insurance benefits are numerous, and each company has its own travel insurance packages or plans. A great way to choose an excellent insurance policy is to contact BuyAnyInsurance, as an insurance expert will help you choose the best insurance plan. However, some of the covers that you can find with most insurance companies are:
Trip cancellation: for reasons such as illness, injury or death to you or your travel companion. Flight delay or cancellation by the carrier for reasons related to weather, for example, or maintenance. Workers' strikes, car accidents on the way to the airport, loss of work, and much more.
Stop or cut a flight: It's a lot like canceling a flight, but the damage happens during the flight, not before. In order to obtain this coverage, it must be included in the terms of the travel insurance policy.
Travel Delay: If your flight is delayed for some reason, this coverage will reimburse you, within policy limits, for reasonable meals, phone calls, parking fees, local transportation, and even accommodation.
Lost Baggage: Travel insurance compensates you in the event your baggage is stolen, lost or damaged during your trip. If you need to reissue your passport, visa or ticket because it is lost, stolen or damaged, this coverage can help you pay the fee.
Sports Equipment Coverage for sports equipment is similar to covering luggage when it is lost. If you are damaged, stolen or lost, your travel insurance will reimburse you for the damages.
Baggage delay: Baggage delay can compensate you for the reasonable costs of clothing and personal items that you had to purchase because your baggage was delayed.
Medical and Dental Expenses: In order to get this coverage, you must get sick or injured during the trip. Pre-existing conditions are often excluded from coverage.
Emergency and Evacuation Assistance: Travel insurance policies cover emergencies and medical expenses, as well as repatriation of the body in the event of death
What are the factors that affect the cost of travel insurance?
Some factors play an important role in determining the cost of travel insurance. It should also be noted that these factors differ from one company to another.
Trip length: The longer your trip, the more likely you will be exposed to dangers during your trip. That is why the premium for travel insurance will rise exponentially with the length of travel.
Age of the traveler: The cost of travel insurance increases as the age of the traveler increases, as older travelers are more exposed to diseases and risks.
The cost of insurance goes up or down depending on the destination you are traveling to. This is because the expenses of medical insurance differ from one country to another; it may be expensive in certain countries and reasonable or cheap in other countries.
Pre-existing conditions: You will often have to pay a higher premium if you have a pre-existing condition.
Travel Insurance Plan: Some insurance plans that include coverage for trip cancellation, trip layover and flight delay are usually more expensive.
Policy limits: The higher the travel insurance policy limits for the coverage you desire, the higher the premium.
Coverage type: Your choice of coverage will affect the cost of the premium for travel insurance, as comprehensive policies are always high in cost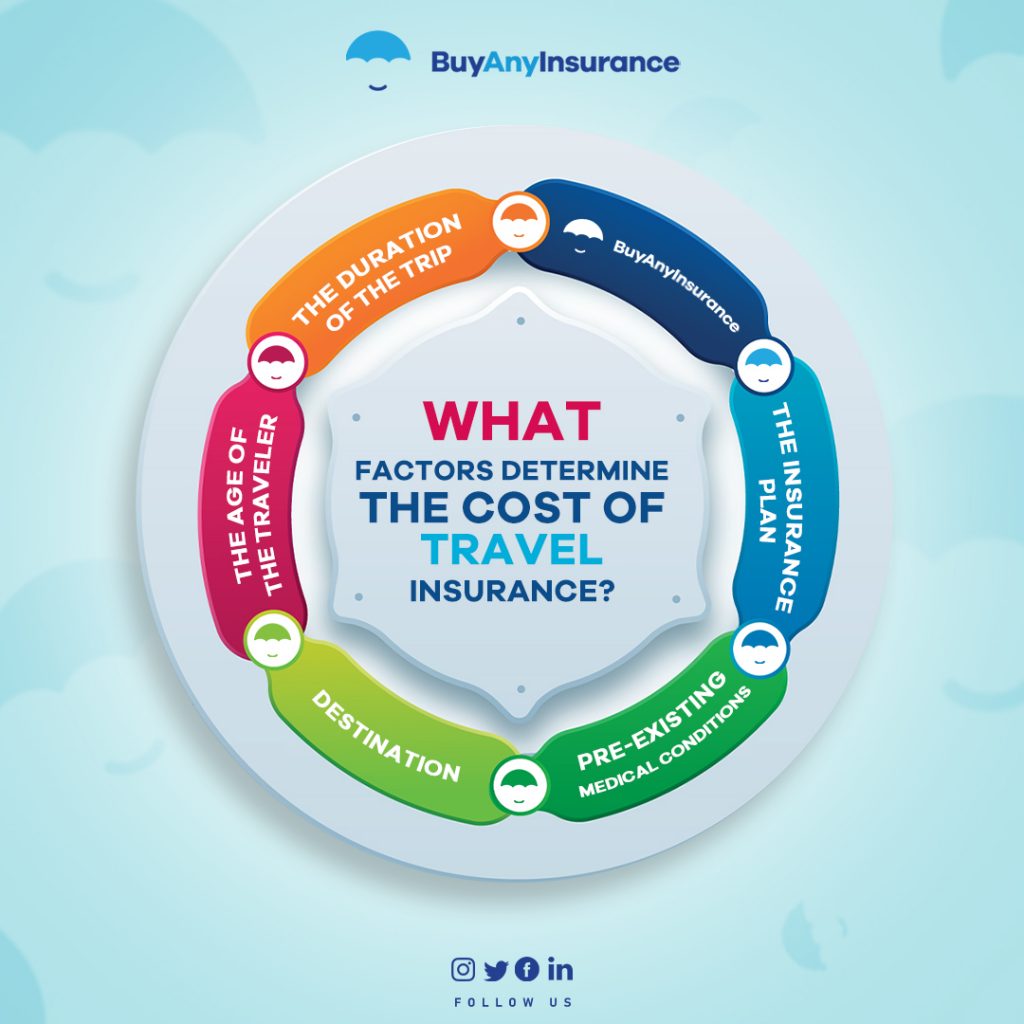 How to get travel insurance in the UAE?
Many reputable insurance companies in the UAE offer various types of insurance, including travel insurance plans. However, what do you think about saving yourself the trouble of effort and time, and getting the offers of these companies from one platform without any additional fees?
An interesting idea isn't it! When you contact the Buy Any Insurance team, one of the experts will help you choose the best insurance plan that suits your needs and requirements. In addition to clarifying the terms of the policy, and what purposes or property you will compensate for in case of loss, or emergency events covered by the policy.
Yes, it's that simple, the BuyAnyInsurance team is always there around the clock to serve you, and help you whenever you need help.
Originally published Jul 09, 2021 19:09:21 PM, updated Aug 22, 2022