2022 Car insurance Guide: Get Best Deals This year
2022 Car insurance Guide: Get Best Deals This year
2022 Car Insurance Guide assists you with precise and diligent research effort based on our experts working and UAE insurance market trends that pledge to deliver promising and affordable insurance plans for anyone who owns a car.
The New Year has started, and with that, it is time to make the purchases you have planned.
After months of planning, you've made the big purchase and have become the owner of a brand-new car.
You are eager to take her out for a spin down the iconic roads of Dubai.
Therefore, before you get down to playing with the cruise control, you must ensure that your car is registered and insured by the Road Transport Authority (RTA).
This is the tricky part:
How do you select a suitable car insurance policy?
Should you choose the cheapest policy in the market or the policy that you come across first?
What should be covered by your policy? These decisions may seem overwhelming if this is your first time.
Insurance Providers With best Packages This 2022
For our 2022 car insurance Guide, we have even listed down the companies for you that will give you the best offers and you can consider them while buying insurance.
1.Adamjee Insurance
With a strong regional presence in the UAE, Adamjee Insurance offers a wide range of products, including car, health, travel insurance, financial lines, agricultural and fire, and property insurance.
Moreover, they provide Shariah-compliant Takaful products through AICL's top-of-the-line Window Takaful Operations.
2. AMAN Insurance
AMAN Insurance is a national Islamic company that offers general insurance products such as car, fire and marine insurance in the UAE.
Hence, it provides third-party liability and comprehensive policies with features like 24-hour roadside assistance, agency repairs, coverage for riots and off-road coverage.
3. Noor Takaful Insurance
Noor Takaful offers many Islamic insurance products & services in the UAE. Moreover, they provide an efficient claims service. Noor Takaful's insurance plans include 24-hour roadside assistance, agency repairs, off-road coverage, cover for drivers, passengers, and new car replacement.
4. Union Insurance Company
An established company with offices all over the UAE, Union offers comprehensive and affordable motor insurance packages that can be customized to your needs. Thus, some of their key coverage features include:
Auto Assistance
Personal Accident
Superior Agency Repairs
Roadside Assistance
Free Registration Service
5. Al Sagr National Insurance Company
Al Sagr has a strong presence in the UAE, Saudi Arabia, and Jordan. The company offers products like comprehensive and third-party liability policies that adhere to UAE standards.
6. Al Wathba National Insurance Company
Wathba operates in Abu Dhabi, Dubai, Sharjah, and Al Ain, supported by highly-rated international reinsurers.
The company provides individual and corporate insurance products that include motor insurance, travel insurance, and home insurance.
7. Salama Insurance
One of the leading Takaful companies that offer Islamic insurance in Dubai, Salama Insurance serves both individual & institutional customers via their global network across the UAE, Saudi Arabia, Egypt, Senegal, Algeria, and Jordan. Salama provides comprehensive and third-party liability coverage based on Sharia law.
8. Watania Insurance
A Takaful company, Watania offers a range of insurance products in the UAE. Watania offers comprehensive and third-party liability coverage, additional covers and features, repairs, garage, and Premium garage repair packages to its insurance customers.
Here's a quick guide to everything that you need to know about getting car insurance in the UAE in 2022.
FAQ's
Who typically has the cheapest car insurance?
There are few companies that offer cheap car insurance. These include USAA, Erie Insurance, State farm and Gecio. But it's wise to go for the one that suits your needs along with being budget friendly. You can compare different car insurance quotes online at BuyAnyInsurance and get the one that suits your needs.
What does full coverage car insurance cover?
A full coverage car insurance covers repairs, personal injury claims and damage to your car.
What is the difference between full coverage and comprehensive car insurance?
A full coverage insurance policy covers both comprehensive and collision damage and comprehensive insurance policy covers damages to a car from theft and fire etc.
What is car insurance third party?
A third party car insurance will cover you against any legal liability in case you have caused death or an injury to any third party or have damaged their property.
What is the need for Car Insurance in UAE in 2022?
According to the UAE RTA law, it is compulsory for all car owners to get insurance. It is also compulsory because insurance policy provides financial protection in case of a natural calamity or an accident.
Hence, in other words, due to an accident, all the repair work will be paid by the insurance company.
What type of Car Insurance should I go for?
The type of insurance you will pay for will depend on two things:
a) Your actual requirement- what aspects you wish for the car insurance to cover
b) Your risk capacity- do you prefer to keep the cover to a bare minimum since you assume the probability of something bad happening is low or are you the cautious sort who prefers leaving nothing to chance?
Your answer to the above two questions will determine the type of insurance you need. There are two types of car insurance available in the UAE:
1. Comprehensive Insurance As the name suggests, a comprehensive car insurance policy will offer you a wider protection of cover.
It will cover damages to your car caused by an accident either by you or a third person.
It will also cover any damage to your car due to theft, or act of vandalism or fire. Hence, it covers damages for all parties involved in an accident, the premium on Comprehensive insurance is on the higher side.
2. Third-Party Liability (TPL)Third-Party Liability car insurance will only cover for damages caused by you to other people's cars.
If your car gets damaged in an accident of your fault, this policy won't cover any repair work for your car.
The insurance company is only liable to pay to the third party involved in an accident caused by you.
However, if you happen to be in an accident not of your fault and you have a Third Party Liability car insurance policy, then you need to determine if the other party's insurance company will pay for your damages.
Because the damage cover is limited in this policy, your premium will be lower compared to that for a comprehensive car insurance policy.
Thus, many beginners make the mistake of opting for this cover because it is much more affordable.
Is there anything else I need to consider?
Based on your needs you could also include some of these add-ons to your policy. However, these would also increase your premium:
Roadside Assistance- If your car breaks down or if you run out of fuel on the road, this add-on will provide you with a mechanic / towing service wherever you happen to be in the UAE.
GCC Coverage: If you take frequent road trips to the neighboring GCC nations, a wider coverage is a good backup plan. In fact, some countries like Oman will not allow you entry unless you have valid international/GCC insurance.
Agency Repair: Getting your car repaired from the official dealer of the car will ensure the authenticity of the parts used and better servicing. Hence,it is costlier than a cheaper, quick-fix option from a local repair shop.
Car Rental: If your car is in the workshop, some policies also cover the cost of renting a car to tide over the repair period.
Personal Belongings, Personal and Passenger Accident Cover: This covers death or any bodily injury to you or the passenger in your car at the time of an accident, as well as any personal items such as a laptop or a mobile phone that might get damaged during an impact.
Now that you've decided on the type of policy, let's work out the premium you will have to pay.
You weighed the pros and cons of opting for a Comprehensive Insurance cover over a Third-Party Liability policy.
You have also decided to skimp on the add-ons in your policy. Now comes the part where you figure out the Premium you must pay the Insurance agency for a sufficient damage cover.
Thus, in this section of the UAE car insurance guide, we seek to answer your queries on factors you must consider while calculating your annual Premium and how to get yourself a good deal finally.
What is the validity of my insurance policy?
In the UAE, a one-year policy offers a 13-month coverage instead of a regular 12-month period. The additional one month is a penalty-free grace period offered by the RTA to re-register your car.
How is my Car Insurance Premium calculated?
A premium is a fee you pay to the insurance agency to keep your car insured for some time.
The amount you pay depends on various factors, such as the cost of your car, the model and make of the car, how old your car is, your age and your past driving experience.
Thus, your premium will increase if you are younger than 30, have an accident-prone driving record, drive a car over three years old or own an exclusive model.
How can I lower my premium?
Another tip and trick of our 2022 car insurance guide is to evaluate the car quotes to get aware of premium factors.
There are multiple things you could do to ensure that your insurance premium is within budget.
Get a 'No Claim' certificate. This certificate proves that your car was accident-free the previous year. Thus, this can get you a discount on your policy renewal premium
Pay a higher Excess fee or Deductible. This is the amount you agree to pay in case of an accident caused by you. Thus, the more you agree to pay, the lower your insurance premium.
Opt only for the most important policy add-ons. Do you really require a GCC policy cover if you do not travel outside of the UAE? Do you require a natural calamity cover for events like the flood when it barely drizzles in this part of the world?
How do I buy the policy?
There are different methods to buy an insurance policy in the UAE. You can either buy the insurance from any UAE RTA vehicle-renewal center. Or you could directly contact multiple insurance agencies and ask for a quote.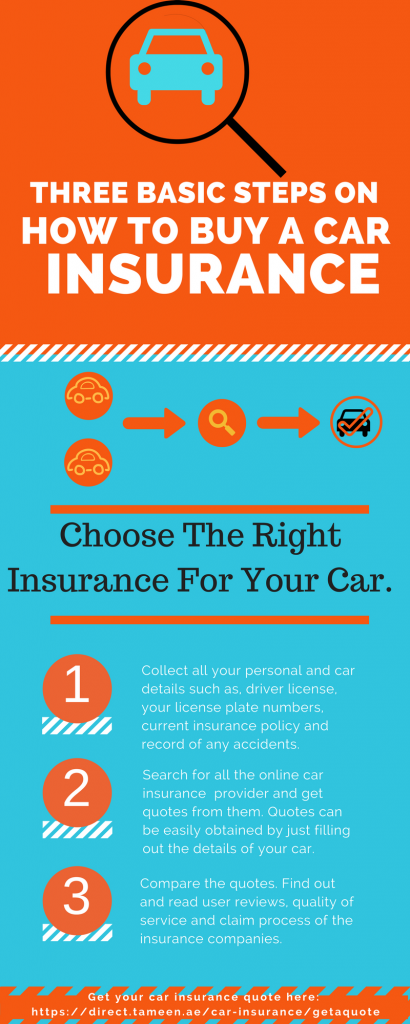 There are certain documents that you have to submit along with a premium fee after you have made a decision on the agency and the policy.
These documents are: 1. You have to submit a copy of the passport along with the correct UAE residence visa or valid UAE ID.
2. You have to submit a copy of your driving license
3. Copy of the Registration of the car
4. If it's applicable, submit a No Claim Certificate
Therefore, the 2022 Car Insurance guide is the step to lower your premium and you should do proper and complete homework to choose an insurance policy that is appropriate.
How to Read your Insurance Policy?
The details mentioned in
car insurance policies are often adequate to make you confused.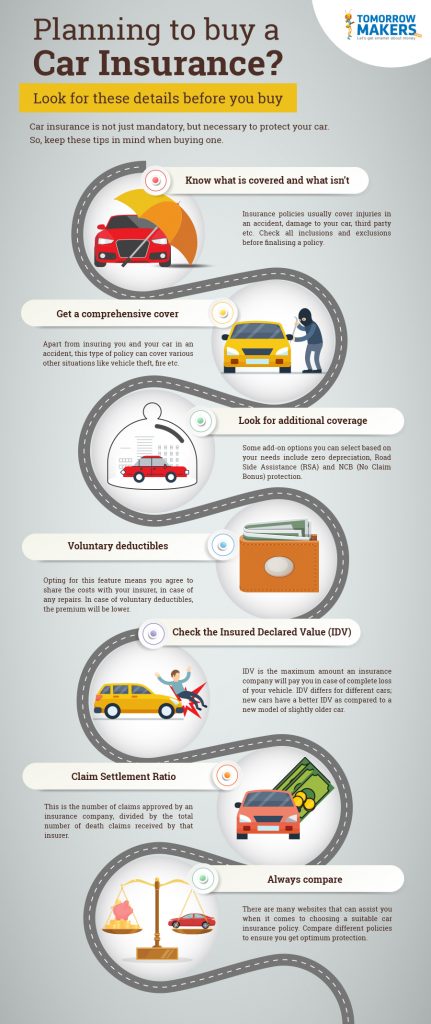 Words like claims, exclusions, and deductibles, can be scary. Thus, we have presented a guide through which you can easily learn about the terms and their meanings.
Claims
Foremost, the most important thing in any policy is the ability of an insurer to handle a claim. For example, is it easy to file a claim and get it approved? Is the whole process managed quickly and without hassle?
Before buying or renewing your policy, you should ask the sales agent the following:
What steps are involved in filing a claim?
Do you have to take your car somewhere to be assessed?
What is the average time to process and approve a claim?
2. Exclusions
The "fine print" most often includes exclusions and it is important to understand what type of car insurance you are looking for.
For instant, if you require your car to be repaired at the workshop of the car dealership, you need to make sure that "agency repair" is included, which will cost significantly more than "garage repair" from a third-party workshop.
Thus, before saying "yes",
customers should find out the following:
Will the car be repaired at the dealership (agency) or a garage?
How much of the claim you will have to pay out of your own pocket?
3. Additional services
In our 2022 car insurance guide, we recommend you to have a look at these amazing additional cost-effective service.
The best car insurance typically offers additional value in terms of add-on services related to daily use of the car.
These could include discounts and vouchers or any of the following:
Personal accident benefit – a one-time amount that the insurer will pay if you or any occupants of the car die or are disabled in an accident
Rental car – a loan car that is provided while your car is being repaired after an accident
Roadside assistance – 24-hour hotline for breakdowns or another car trouble (e.g. flat tyre)
Thus, no matter the type
of car insurance you choose, it should be easy to understand, easy to buy, and
easy to renew online.
Conclusion:
Our 2022 Car Insurance Guide covers all the ifs and buts that may cross your mind during insurance shopping. We have jotted down all those necessary insurance plan credentials and features provided by the car protection companies that you must get aware of at the time of purchase.
Related Articles:
Originally published Jan 07, 2021 13:35:00 PM, updated Jun 07, 2022